Discover more from ExxonKnews
Big Oil is still deceiving the public today. ExxonKnews shines a light on the fossil fuel industry's role in driving the climate crisis — and the growing movement to hold the biggest culprits accountable.
Over 4,000 subscribers
The Nutmeg State brings a spicy new lawsuit against ExxonMobil
With Connecticut on board, the oil goliath has now been sued by half of New England. 🎃
It's Friday. It's Fall. Things are incredibly spooky and it's not even Halloween yet. It's a good time to sign up for weekly updates on the fight to hold Big Oil accountable for the climate crisis — and you can do that below.
---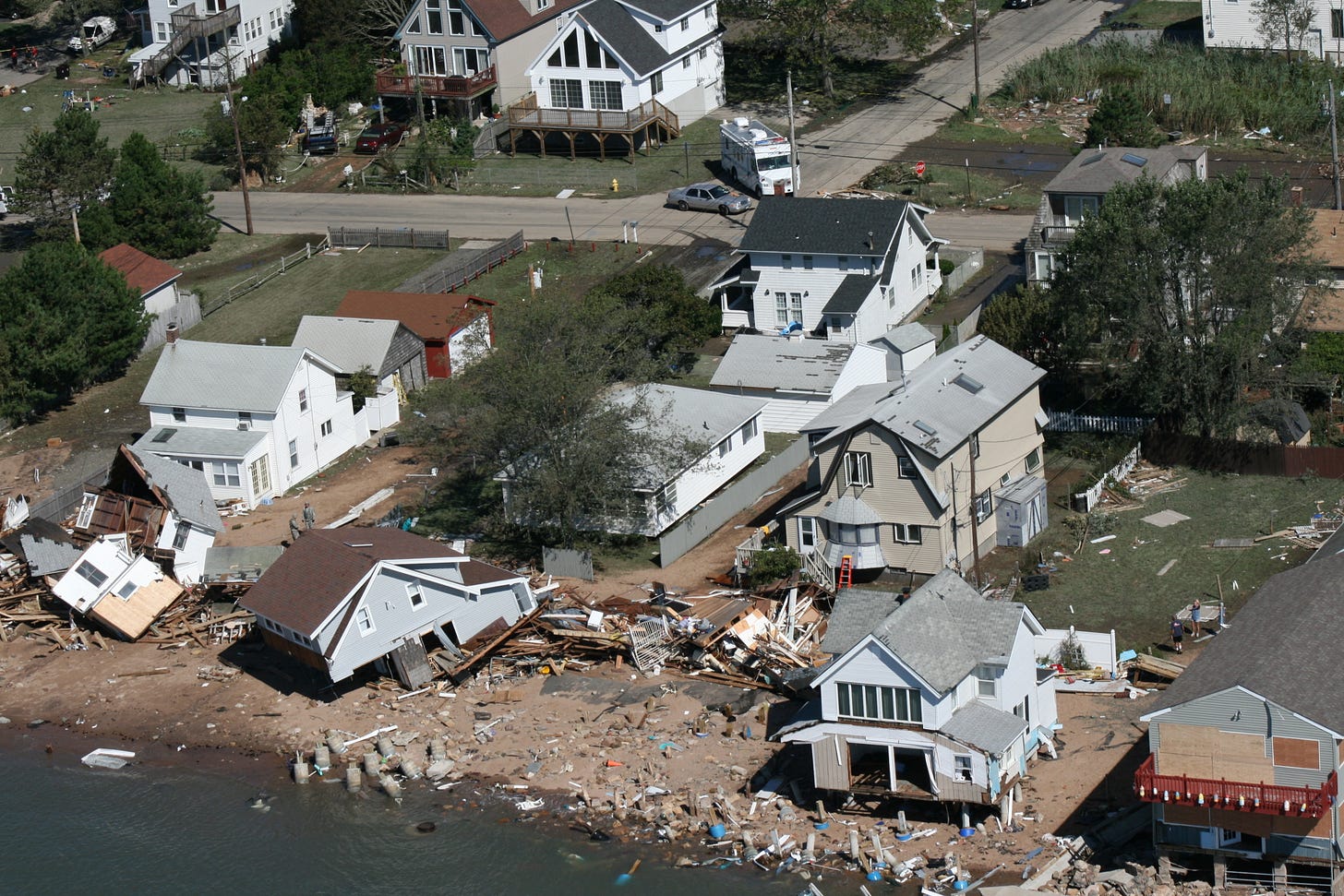 Hurricane Irene damage in Connecticut. Credit: Dannel Malloy
September was one for the record books. Hurricanes, floods, and deadly wildfires made history across the country — and so did four new lawsuits against the industry that lied about bringing these climate-fueled disasters to fruition. The cases are varied in their claims and pursuits, but one thing is constant: every lawsuit targets Exxon for lying about the link between its products and the destruction of our climate. They're a hashtag for a reason, folks.
On Monday, September 14, Connecticut Attorney General William Tong became the nation's sixth attorney general to sue the infamous oil giant for waging a massive "campaign of deception" about climate science that "allowed it to continue to inflict decades of avoidable harm" to the world — and to land, infrastructure, jobs, and lives in Connecticut. 
Here's what you need to know:
Exxon's lies left Connecticut residents holding the bag.
According to the complaint, Exxon's fraud helped provoke a wave of disasters in Connecticut, including "sea level rise, flooding, drought, increases in extreme temperatures and severe storms, decreases in air quality, contamination of drinking water, increases in the spread of diseases, and severe economic consequences." The state just experienced its hottest summer on record, and nearly half a million residents lost power for three days last month when Hurricane Isaias tore into communities with 60-70 mph winds.
Connecticut is already preparing to spend $2 billion to ensure it will survive rising seas. By 2045, the state's largest city, Bridgeport, could see more than 150 tidal floods per year — or an average of 12 per month — with people of color and low-income communities bearing the brunt of the damage. 
Wanna take a guess at who's paying for that? Certainly not the company still hauling in billions off this crisis while they can.
Connecticut is the latest state to charge Big Oil's biggest villain with consumer fraud.
Connecticut's lawsuit is seeking "remediation for past, present and future harm from climate change," along with other remedies. Like the 2019 suit filed by Massachusetts Attorney General Healey, Connecticut's case is focused exclusively on one company — Exxon — and its legacy of lying to the public about its products in violation of one of the state's consumer protection laws. The complaint goes deep into the weeds of Exxon's scheme to hide the direct consequences to Connecticut residents and the world at large from burning oil and gas. 
Just one example: a mere six weeks after NASA scientist James Hansen's famous testimony before Congress on the greenhouse gas effect in 1988, Exxon spokesperson Joseph M. Carlson circulated an internal memo acknowledging the connection between fossil fuels and climate catastrophe — and stated that the company's public position would be to "emphasize the uncertainty in scientific conclusions regarding the potential enhanced Greenhouse effect." 
Exxon spent tens of millions publishing denialist "advertorials" in top media outlets beginning in the 1980s, funded a network of front groups to spread disinformation, and bankrolled teams of lobbyists — many of the same who worked for Big Tobacco — to make their plan reality. The resulting change in public perception of the problem brought any existing momentum of climate policy to a grinding halt — and put communities across Connecticut in harm's way. 
"The reason why we feel very good about our case is because it relies on what ExxonMobil said and what they did," Attorney General Tong told NBC Connecticut. "They're responsible for their role in convincing the American people and people across this state and across this country that [climate change] isn't and wasn't as serious as we know it is."
Cat got your tongue, Exxon?
Exxon has been sued four times this month for lying about climate change in four different states, in lawsuits brought by different elected officials, with different claims, for different harms. So how has the multibillion-dollar oil company that spends ungodly amounts of money on its public relations work responded? By literally issuing the same exact four-sentence statement, word for word, every time. Here it is:
"Legal proceedings like this waste millions of dollars of taxpayer money and do nothing to advance meaningful actions that reduce the risks of climate change. ExxonMobil will continue to invest in efforts to reduce greenhouse gas emissions while meeting society's growing demand for energy. The claims are baseless and without merit. We look forward to defending the company in court." — Exxon, every time they get sued now. 
Money can't buy creativity, it seems. But more to the point, Exxon really has nothing to say in its own defense. Let's break down that statement a little, since Exxon seems so proud of it. 
Legal proceedings like this waste millions of dollars of taxpayer money...
These lawsuits are seeking to recover the billions of taxpayer dollars that have to be spent cleaning up the mess Exxon made. And that's not to mention the billions of dollars they receive in massive subsidies, tax breaks, and — oh right — public bailout money that should've gone to communities in the middle of a global pandemic.
...and do nothing to advance meaningful actions that reduce the risks of climate change.
That's funny. Hilarious really. These suits are about Big Oil spending buckets of cash to make sure no one could do anything meaningful to tackle climate change for decades. Exxon might want to sit this one out.
ExxonMobil will continue to invest in efforts to reduce greenhouse gas emissions while meeting society's growing demand for energy.
They're not seriously boasting about emissions reductions while producing the most greenhouse gas emissions of any Big Oil company, and planning for even more of the same… right?? Algae our collective ass.
It's not complicated, really. Exxon lies for a living. It's why they will never be a good faith partner in climate solutions. And it's why they're being sued by 23 communities across the country and counting. As more states and municipalities take action to hold them accountable, it seems likely that Exxon will have to copy and paste some version of that weak sauce statement again, again, and again. Because they clearly have nothing better to say. 
---
ICYMI News Roundup
In the fight for climate justice — and always — Black Lives Matter. Until next week, please take care.