Discover more from ExxonKnews
Big Oil is still deceiving the public today. ExxonKnews shines a light on the fossil fuel industry's role in driving the climate crisis — and the growing movement to hold the biggest culprits accountable.
Over 4,000 subscribers
New Jersey's small towns are fed up with paying for fossil fuel industry crimes
...and they want their Governor to sue.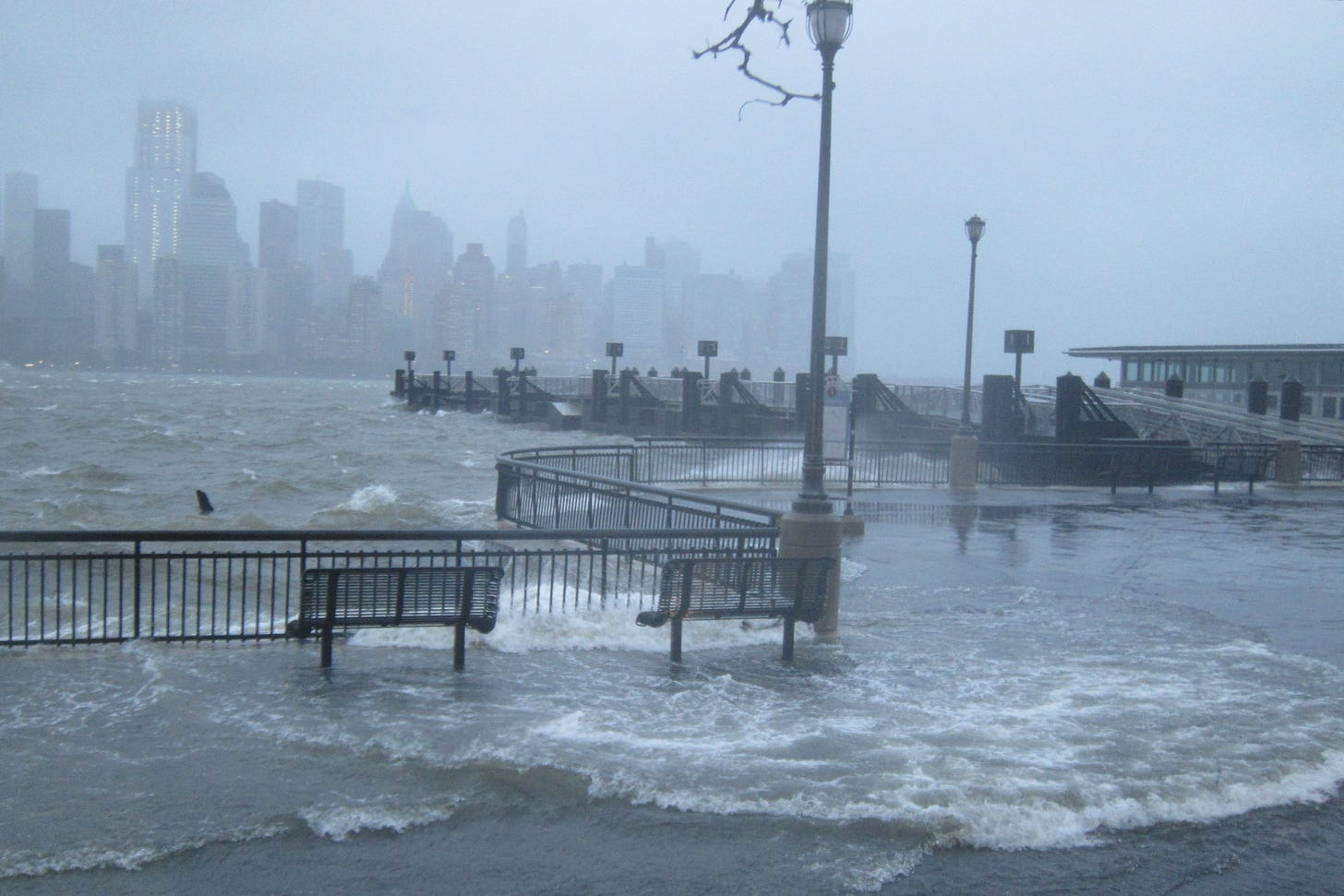 Exchange Place Waterfront during Hurricane Sandy. Credit: Wally Gobetz
With 130 miles of coastline at the mercy of a rising Atlantic Ocean, the Garden State is no sanctuary from the threats of climate change. A global warming-inflamed Hurricane Sandy demolished 72,000 homes and caused $30 billion in damages to New Jersey; today, supercharged storms are even more dangerous and more likely to occur. For years, communities along the shore have looked for solutions to protect their families, homes, and jobs — and now they're calling on state leaders to hold the fossil fuel industry financially accountable. 
John Weber is Council President of Bradley Beach, a small community on New Jersey's coast. Weber says his borough took a beating during Sandy, but that they were better off than some of their neighbors in Monmouth County: a damage assessment report by the state's Department of Environmental Protection described entire communities in the county as being submerged, with "houses washed off foundations, and cars and boats carried well inland by the surge." Belmar, just a few towns over from Bradley Beach, had to have its boardwalk replaced for $17 million and storm cleanup cost another $3 million.
After a Nor'easter in '92, Bradley Beach had to bulkhead its boardwalk and build dunes to act as barriers during future storms, like Sandy. But the town, bordered by two lakes and the sea, was still vulnerable. "The lakes were flooded, homes that were around the lakes were flooded, and our beachfront was pretty well trashed," said Weber. "Some of our damages were paid for by FEMA, but it took years and years to get those funds."
New Jersey's seas are also rising at more than twice the global average — the state could see up to 6.3 feet of sea level rise by the end of the century — which means chronic flooding for unprotected towns, residences and businesses lining the shore. Bradley Beach has about 5,000 residents living along the ocean. According to a study by the Center for Climate Integrity (that's us), building seawalls would cost the county more than a billion dollars. That's not the only option, but Weber worries that no matter how the borough goes about keeping its residents safe, eventually the coffers will run dry — for both local governments and families. 
"As a surfer seeing coastal erosion get worse, a coastal dweller and someone involved in local government, I can see there are going to be costs," he told me. "I personally feel that we shouldn't build more in harm's way, we should retreat from the coast — and that's gonna cost us. Other people will want to build seawalls and dunes, renourish beaches, and that will cost us, too. Then what's the homeowner paying because of damage to their own personal property?"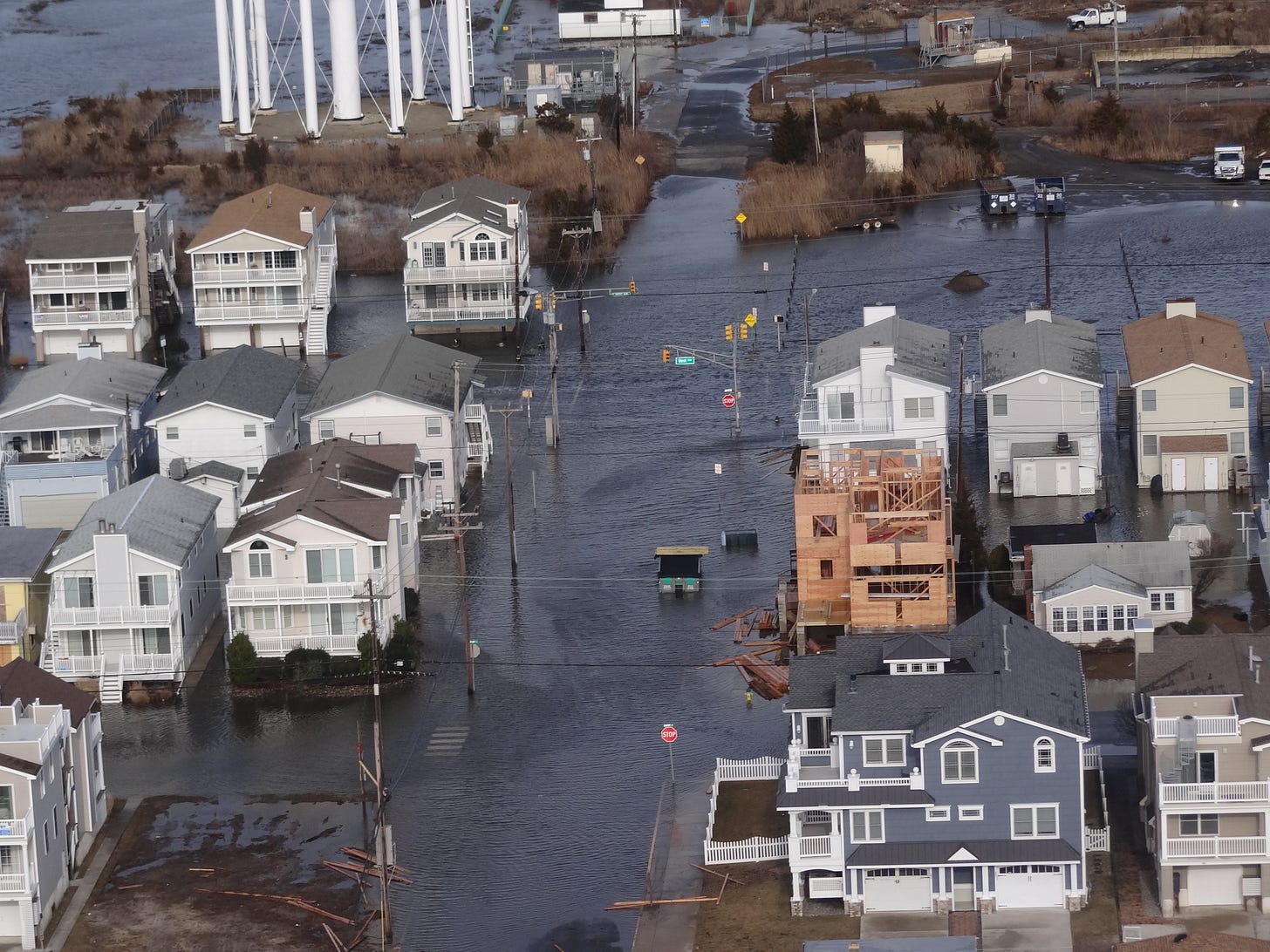 South Jersey winter storm flooding. Credit: DVIDSHUB.
The ongoing COVID-19 pandemic will make it even harder for Bradley Beach and communities like it to pay for necessary adaptation and resilience projects. The town relies on revenue from its beaches to fund resilience projects like beach renourishment, but Weber says they aren't expecting to open until July 1 at the earliest. "If we have a bad year, that comes out of local taxpayer money," he says, which is especially tricky considering how many have lost their jobs and businesses, and can't afford to pay their taxes, let alone have them go up or diverted from other critical services at this time.
The issue is nationwide: municipal governments are forgoing climate adaptation projects during the pandemic, even as both crises continue to risk lives. 
Rather than wait for the problem to get worse, leaders in New Jersey are taking action. In November 2019, the New Jersey League of Municipalities passed a resolution in support of "local governments' rights and efforts to mitigate climate change damages and protect taxpayers from related adaptation costs." In March, New Jersey Senator Loretta Weinberg introduced a second resolution calling on New Jersey's governor and attorney general to file a lawsuit against these companies for the costs of climate adaptation and extreme weather recovery in the state, just as 15 other municipalities nationwide and the state of Rhode Island have done. The borough of Sea Bright passed a resolution shortly thereafter. 
When Council President Weber first heard about the idea of suing the industry, he thought that "it'd be nice if these costs could somehow be offset by fossil fuel companies." But when he saw the mountain of evidence proving that Big Oil intentionally misled the public about their products, and that they made billions in profit off the backs of his constituents, he decided that Bradley Beach, small as it was, needed to take action. 
"When I learned how much these fossil fuel companies knew, and then deceived the public, I got a little bit more religion on this," he told me. "These people knew, and they were totally sneaky about it." (Wait… was Springsteen singing about Exxon?)
On April 14, the Bradley Beach Council unanimously passed its own resolution introduced by John Weber, calling on New Jersey Gov. Phil Murphy to "hold the fossil fuel industry financially accountable for their role in creating and perpetuating the climate crisis to ensure that the cost of adaptation and mitigation does not fall solely on the shoulders of taxpayers." 
If Exxon and other industry giants wanted to lead us towards a better future, they would start by financing protection for communities rather than donating hand sanitizer and calling it a day.  Now, we should look towards communities big and small, from New Jersey and across the country, who are paving their own way by standing up to corporate goliaths and telling them the jig is up.
---
Sign up for a free weekly edition of EXXONKNEWS below:
---
ICYMI News Roundup