Discover more from ExxonKnews
Big Oil is still deceiving the public today. ExxonKnews shines a light on the fossil fuel industry's role in driving the climate crisis — and the growing movement to hold the biggest culprits accountable.
Over 4,000 subscribers
Exxon sued twice in two days: Minnesota and D.C. take on Big Oil over climate lies
Attorneys General Keith Ellison and Karl Racine brought cases against the biggest names in the industry in this latest wave of climate liability suits.
Minnesota Attorney General Keith Ellison is taking Exxon, Koch and the American Petroleum Institute to court for lying to the public about climate change.
---
Friendly reminder that if you haven't yet signed up for weekly updates from EXXONKNEWS, you can do so below.
Good morning! And it is a good morning, because we have some incredible news to share in the world of climate accountability: Minnesota AND the District of Columbia each filed a consumer protection lawsuit against the fossil fuel industry's top dogs — Exxon, Koch Industries and the American Petroleum Institute (Minnesota) and Exxon, Shell, Chevron, and BP (D.C.).
Yes, this did all happen in one week. Talk about momentum. We're going to take a top-level look at these cases today, and then focus on more details about each in future newsletters.
---
As Attorney General Keith Ellison said so succinctly in his Wednesday press announcement, "They didn't just not tell the truth — they actually misled you." 
That's what both lawsuits filed this week are about: holding these companies accountable for flat out lying to the public about the biggest crisis humanity has ever faced. Here's what you need to know about each:
Minnesota's lawsuit is the first to sue Koch Industries and API over climate change.
AG Ellison is not screwing around. Exxon is the largest oil company in the world, the American Petroleum Institute is the largest oil and gas trade association, and Koch Industries is not only the largest oil refiner in Minnesota, but very possibly the most powerful force in climate denial ever.
Everyone knows about the star of the show, ExxonMobil, which conducted cutting-edge scientific research into the greenhouse gas effect — and then spent over $30 million on advertisements and lobbying to make climate denial mainstream and stop climate policy in its tracks. 
But behind the scenes, the multi-billion dollar Koch empire masterminded modern climate denial. Between 1997 and 2017, they spent over $127 million directly financing groups that worked to spread disinformation and unravel policies aimed at mitigating climate change. 
Koch has a significant presence in Minnesota (and its legislature): their Pine Bend refinery in Rosemount is the largest oil refinery in the state and the leading producer of transportation fuels in the Midwest. 
Then there's the American Petroleum Institute, with its recorded knowledge of the dangers of climate change going back to the 1960s and its efforts to block climate policy continuing to this day. Just this year, the association launched a new greenwashing campaign to convince the public of its commitment to solve the very crisis it has enabled for decades.
D.C.'s lawsuit targets four of the biggest oil companies — and it brings receipts. 
During a Thursday press call, Racine said his office has been investigating Exxon, Shell, BP, and Chevron for years, and that that work "revealed that over more than a half a century, these four companies have engaged in a complex, multi-million-dollar public relations campaign to undermine the growing body of scientific research demonstrating that climate change is man-made." 
Among the evidence the lawsuit cites is a series of Exxon "advertorials" — paid ads that aim to trick consumers into thinking they are real editorials — in papers like the Washington Post and New York Times. One example from 1984 titled, "Lies they tell our children," complains of schools teaching the "lie" that "a greenhouse effect . . . would melt polar ice caps and devastate U.S. coastal cities."
This kind of false and misleading advertising is also the subject of the consumer protection lawsuit filed in D.C. by Beyond Pesticides that we previously covered.
These lawsuits are all about the defendants' lies on climate change — naming them, correcting them, and setting a precedent for ethical business.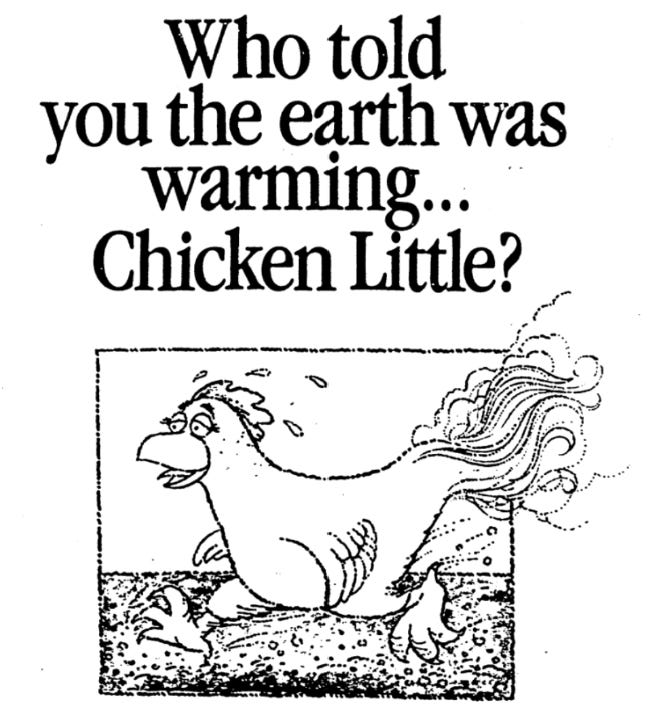 Referenced during AG Ellison's press conference, this ad was published as part of a campaign in 1991 by the Information Council on the Environment, a group of fossil fuel trade associations formed to "reposition global warming as theory (not fact)."
Minnesota's lawsuit doesn't ask Koch, Exxon and API to pay for climate damages or adaptation. Instead, Ellison wants the companies to pay back their ill-begotten profits, fund "a corrective public education campaign in Minnesota relating to the issue of climate change, administered and controlled by an independent third party," and "disclose, disseminate, and publish all research previously conducted directly or indirectly . . . that relates to the issue of climate change."
Likewise, D.C.'s suit isn't about proving specific damages, or arguing climate science — only showing that the Big Oil defendants lied about what they knew in violation of the District's consumer protection law. 
The people of Minnesota and D.C. have paid dearly for these lies. Minnesotans are now spending millions to protect against record rain and snow, devastating flooding, more frequent and severe storms, and extreme heat. D.C. sits between two rivers that now flood five times more often than decades ago, and increasingly hot summers pose health risks for vulnerable residents. 
The importance of two major lawsuits like these — the first by a Midwestern state, the first by the nation's capital — cannot be overstated. Big Oil can complain all they want — and they will, a lot — but there is no denying that the legal efforts to hold their industry accountable for decades of climate deception are stronger than ever. 
And with Minnesota and D.C. now on the map, the pressure is on. Can Big Oil take the heat? 
Take Action
Please take a moment to thank AGs Keith Ellison and Karl Racine for standing with people over polluters. Let them know that accountability matters.
ICYMI News Roundup
If you'd like, please share this week's issue of EXXONKNEWS. Until next week!