Discover more from ExxonKnews
Big Oil is still deceiving the public today. ExxonKnews shines a light on the fossil fuel industry's role in driving the climate crisis — and the growing movement to hold the biggest culprits accountable.
Over 4,000 subscribers
Communities across the globe shine the spotlight on Chevron
This week marked an annual rally against the oil major's ongoing villainy on climate.
Good morning and happy Friday. Yesterday was International Anti-Chevron Day, an annual day of protest (this time, online) during which hundreds of environmental advocacy groups, human rights organizations, and scientists across the globe spoke out against one of the world's biggest culprits in climate destruction. Chevron doesn't always get the same level of attention as, say, the namesake of this newsletter. So this week, I thought it would be prudent to talk about Chevron's history of swindling the public for profit — and the growing effort to hold them accountable.
Yes, Exxon knew, but Chevron did too.
After all, there is a reason that twelve United States cities and counties, the state of Rhode Island, and the largest trade fishing association on the West Coast charged Chevron with executing a decades-long disinformation campaign that set the scene for untold damages to homes, jobs, communities, and lives. 
As far back as the 1970s, Standard Oil and Texaco, the companies that would go on to form Chevron, conducted advanced research on the connection between burning fossil fuels and global warming, according to documents obtained in an investigation by InsideClimate News. Those companies didn't stop at merely neglecting to warn the world about what their research showed: that their products would cause climate change. They joined the Global Climate Coalition, a lobbying group whose purpose was to spread climate denial and kneecap global efforts to address what would become a full-fledged crisis. 
Since 2015, Shell, ExxonMobil, Total, and Chevron have spent more than a billion dollars spreading junk science, climate denial and related lobbying, according to a report published last year by the research organization Influence Map. And like many of its peers, the company continues to spin misinformation into gridlock on climate policy like it's their job.
Chevron is still adding fuel to the fire, and refuses to slow down.
Not to be outdone by its competitors, the company even topped the list of investor-owned corporations in contributing to worldwide carbon-dioxide and methane emissions. Congrats on that crowning achievement, I guess?
Mike Wirth, Chevron's chief executive officer, has stated outright that Chevron has no plans to go carbon neutral in the near future, and will only invest in renewable energy to "support" its current oil and gas business. In an announcement last year that the company would supposedly reduce its greenhouse gas emissions, Wirth said its oil and gas operations would be more efficient — but that they will continue to grow. In January, Chevron rejected a proposal by shareholders calling for a plan to begin cutting its greenhouse gas emissions. "We believe that compelling select oil and gas producers to unilaterally reduce their production or change their portfolios to align with a possible future energy mix does not advance the goals of the Paris Agreement," the company wrote in a report on "climate change resilience" the year prior.
These might be some of the reasons why, when it comes to clean energy investments, Chevron has been deemed the "laggard" among the worst oil and gas polluters in the world.
Destroy communities with impunity, but call it humanitarianism.
While it might seem like Chevron is engaging in a more straightforward version of climate denial than some of its contemporaries, the oil giant has poured more than its share of time, effort and money into creating a mirage of the 'environmentally sustainable and socially responsible' corporation. The company has no qualms about touting minor donations and "community development" projects in communities across the world where its operations are devastating ecosystems, livelihoods, and public health.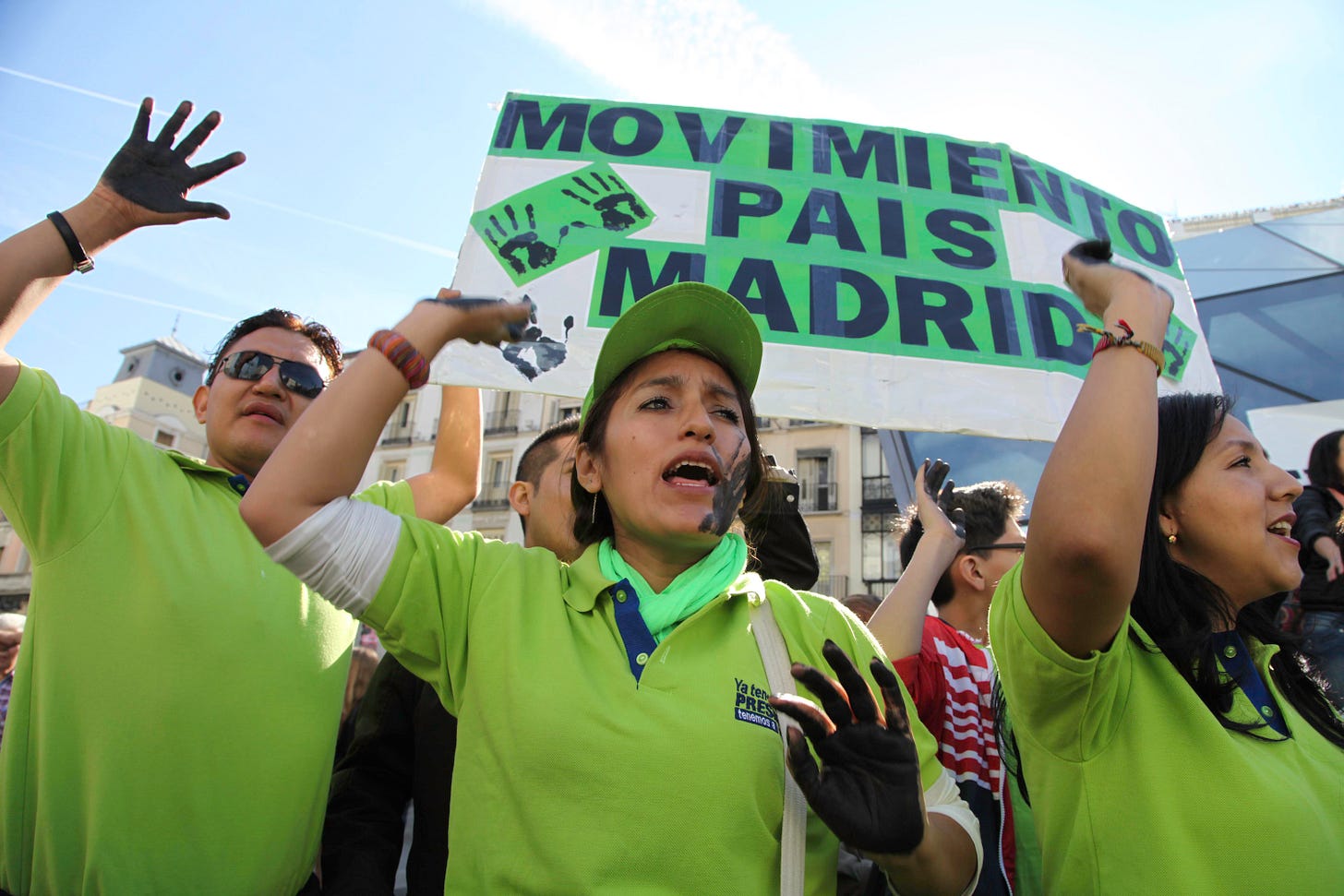 Credit: Ricardo Patiño
Chevron claims that "the safety and health of people and the environment is a Chevron core value," yet the company:
"Chevron is a menace to our climate future and the very idea of corporate accountability," says Paul Paz y Miño, associate director of Amazon Watch, a nonprofit organization that works to protect the rainforest and advance the rights of indigenous peoples in the Amazon Basin. Paz y Miño, who hosted the online event for this year's Anti-Chevron Day, says the company has "has earned the mantle of worst corporate actor time and again not only because of acts of deliberate environmental destruction, as in the Ecuadorian Amazon, but its consistent practice of threats and intimidation of its critics. Chevron has bullied the press, lawyers, activists, local communities and even its own shareholders — and has wasted hundreds of millions of dollars doing it."
Wait, let me give Chevron some credit here: after an explosion of a fracking well that left fires burning for four days straight in Dunkard Township, Pennsylvania, the multi-billion-dollar company offered residents… free pizza.
Despite its, uh... best efforts, no one is buying Chevron as a good corporate citizen.
While taxpayers fund yearly subsidies and now bailouts for the industry at large, Chevron has refused to offer anything more than publicity pocket change for the damages caused by climate change, which taxpayers are also paying for on their own. 
Chris Hemsworth Pledges $1M to Australian Wildfire Relief Efforts https://t.co/C5EDACSxBh via @enews
Communities are fighting back. Join them.
Yesterday's virtual event featured speakers from communities across the world that have been dealt economic, social and environmental ruin as the cost of Chevron's profit. Hailing from Ecuador to Australia to California, presenters detailed the extents Chevron has gone to to silence anyone who dares hold them accountable to the law — but vowed to keep fighting until the company is brought to justice. You can watch the full presentations here.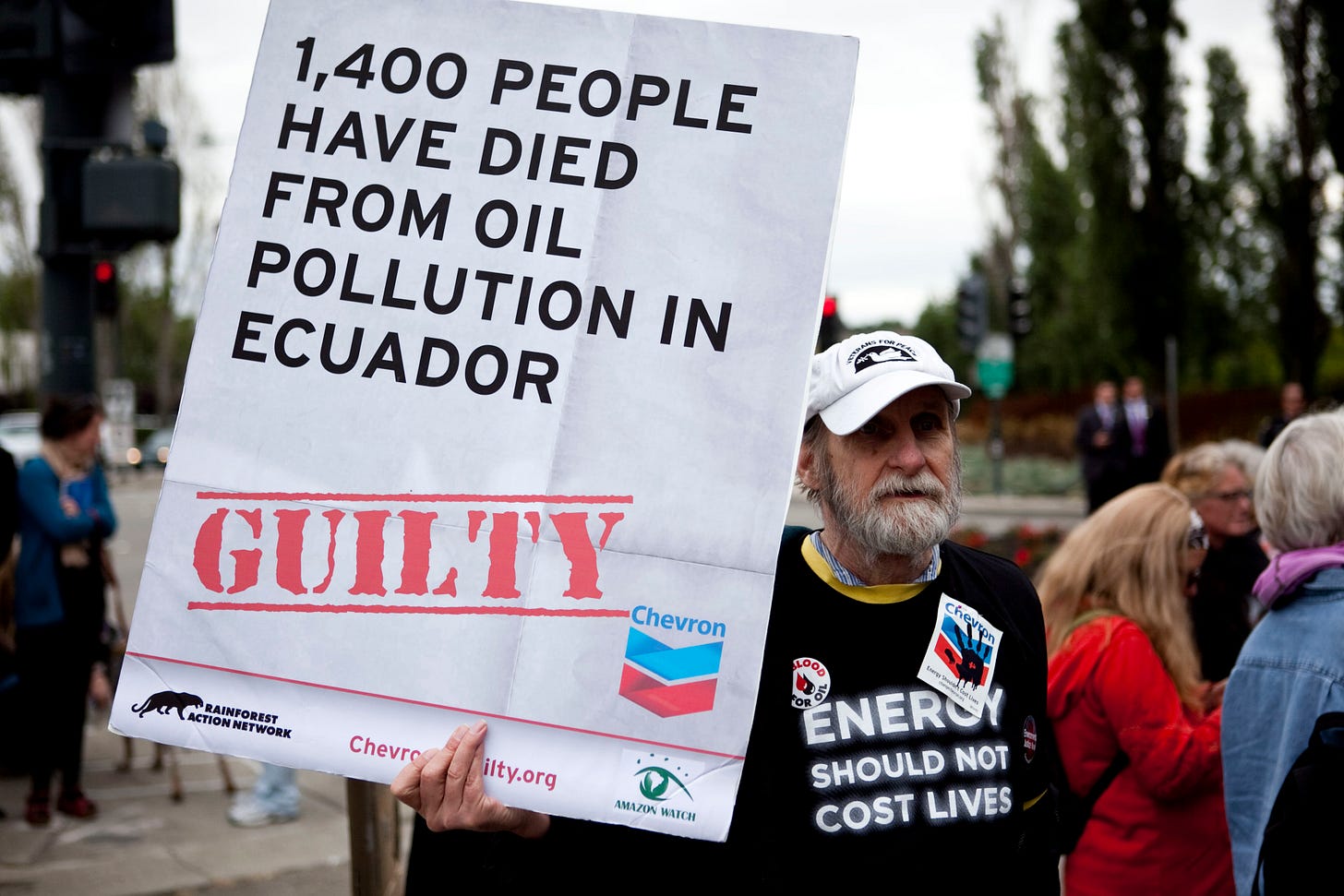 Here are some ways you can help:
---
ICYMI News Roundup
Thanks for reading EXXONKNEWS. If you haven't yet subscribed you can do so below.
Until next week!