Discover more from ExxonKnews
Big Oil is still deceiving the public today. ExxonKnews shines a light on the fossil fuel industry's role in driving the climate crisis — and the growing movement to hold the biggest culprits accountable.
Over 4,000 subscribers
Caught between Boulder and a hard place, Colorado communities face down Exxon in court
Two counties and one city are fighting Big Oil for compensation that is long overdue.
If you haven't yet signed up for a free weekly edition of EXXONKNEWS, you can do so below.
---
I've been noticing a Western theme lately after adopting a new kitten, Tumbleweed, who looks like a tiny cow with a soul patch. But my rhinestone cow-baby isn't the only reason: this week marked an important moment in a dispute between fossil fuel giants and Colorado communities that are coping with a mountain of climate-related costs they are hard pressed to pay on their own.
The city and county of Boulder and San Miguel County filed the first-ever climate cost recovery lawsuit on behalf of non-coastal communities in April 2018. Brought against ExxonMobil and Suncor, the suit demands that the companies pay to help remedy the damages from climate change they knew their products would cause, including from dangerously rising temperatures, wildfires, floods, and drought.
It is also the only climate cost recovery suit in the country that charges Big Oil with conspiracy over the industry's decades-long campaign to deceive the public about those risks. The complaint specifically cites Exxon's early prediction and coverup of climate impacts in Colorado that are now a daily reality.
On Wednesday, the companies argued that the Tenth Circuit Court of Appeals should overturn a lower court's decision to send the case back to state court where it was originally filed. The industry has used this tactic in multiple liability fights because they like their chances better in federal court. But it hasn't turned out well for Big Oil: they have lost in every federal court that has considered the issue, with one exception. Earlier this year the industry lost again, when a three-judge panel from the Fourth Circuit Court of Appeals unanimously agreed that a climate damages case filed by Baltimore should proceed in state court. 
Despite the companies' wishes, the Tenth Circuit has refused to pause the case in state court while the appeal is pending. Still, Big Oil isn't hanging up its spurs to await a decision: on June 1, their lawyers will argue in state court that the case should be dismissed altogether.
Exxon is doing what Exxon does best and is already making this an ugly fight. Last January, two public relations strategists representing the company impersonated journalists in an attempt to "interview" the Colorado communities' attorney about the climate liability suit that had been filed. 
For Coloradans living with the results of Big Oil's plundering, though, this is anything but a game. Wildfires and torrential floods have destroyed thousands of homes and totaled billions in damages. In 2013, flooding in Boulder destroyed more than 1,800 homes and cost $4 billion across two dozen Colorado counties, only a fraction of which was covered by federal funds. San Miguel County's burn area affected by wildfires is expected to increase by 40% by 2050, according to the complaint — a problem that is only worsened by the state's nearly two-decade-long drought.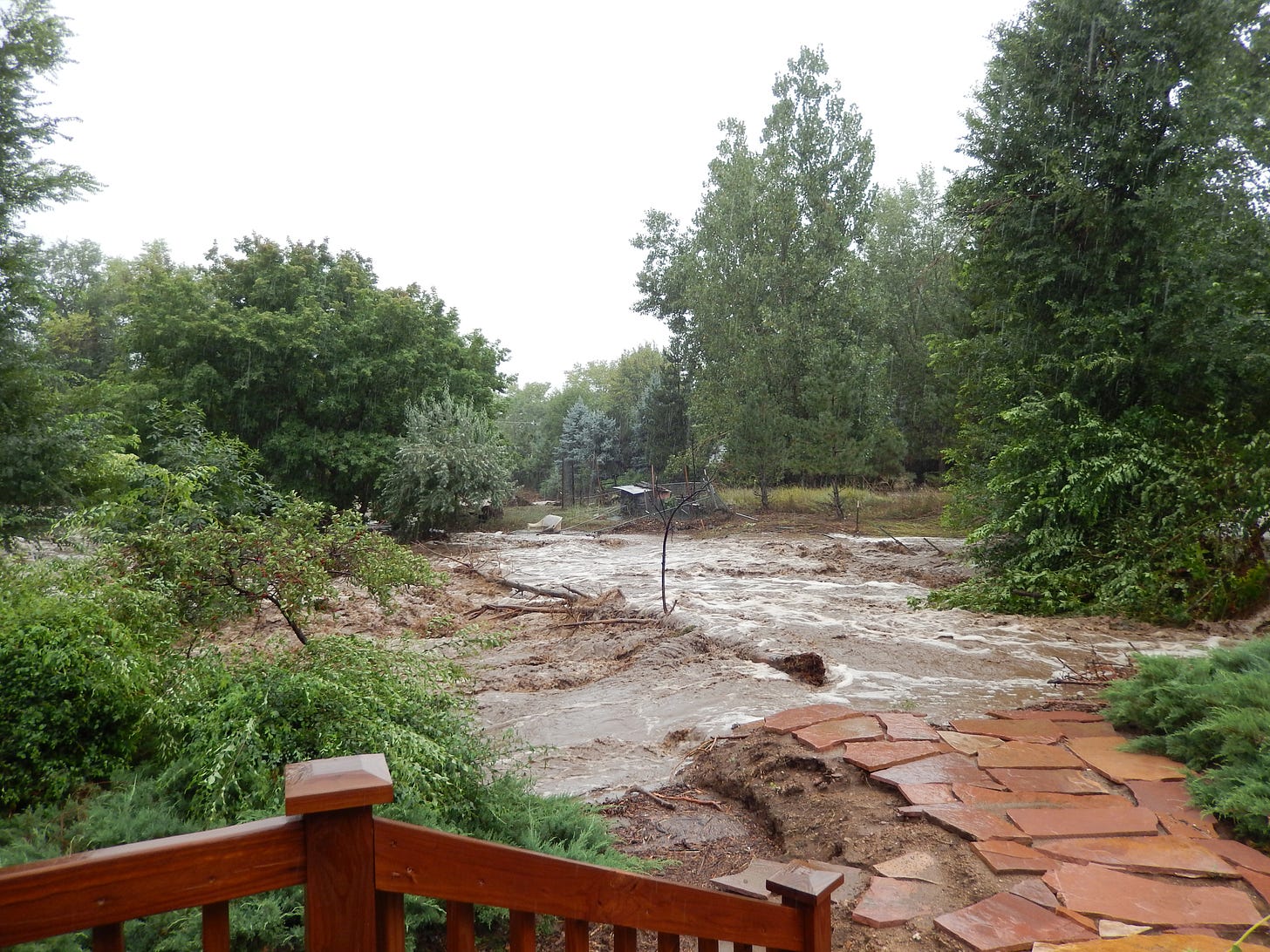 2013 flooding in Boulder. Credit: shankar gallery.
Extreme heat is also putting jobs and lives at risk: according to research by the Union of Concerned Scientists, unless emissions reduce drastically, by 2050 the City of Boulder will experience a heat index exceeding 90°F for a month or more every year.
Colorado's most economically important industries are taking a hit thanks to climate change, too. The Colorado River, which provides $26 billion in recreation annually and irrigation for 4 million acres of farmland, not to mention the water supply of 40 million people across the western U.S., has evaporated dramatically since the start of the century due to warming and is expected to shrink 35% more by its end. Wildfires, changing precipitation levels, and drought in the state have also caused trouble for its agricultural sector. 
Past damages aside, lessening future harm is an enormous financial lift unto itself. As the Colorado plaintiffs explained, "Climate change affects fragile high-altitude ecosystems and hits at the heart of these communities' local economies, affecting roads and bridges, parks and forests, buildings, farming and agriculture, the ski industry, and public open space. Adapting to such a wide range of impacts requires local governments to undertake unprecedented levels of planning and spending." 
By taking the industry to court, local governments can hope to see some of the money that will be necessary to build resilient communities able to withstand a worsening threat. The only question now is whether justice will be served. "This case is an important test of whether those who are most responsible for the climate crisis will be held accountable, or whether the fossil fuel industry will be allowed to profit by forcing others to clean up its mess," says Marco Simons, General Counsel for EarthRights International, the legal nonprofit representing Boulder and San Miguel.
The answer could make or break the survival of Colorado communities. It's time for Big Oil to bite the bullet and pay up.
---
ICYMI News Roundup