Discover more from ExxonKnews
Big Oil is still deceiving the public today. ExxonKnews shines a light on the fossil fuel industry's role in driving the climate crisis — and the growing movement to hold the biggest culprits accountable.
Over 4,000 subscribers
70,000 miles of rivers (and streams) run through it, and they're flooding.
Is this the year that climate change makes waves at the Iowa caucuses?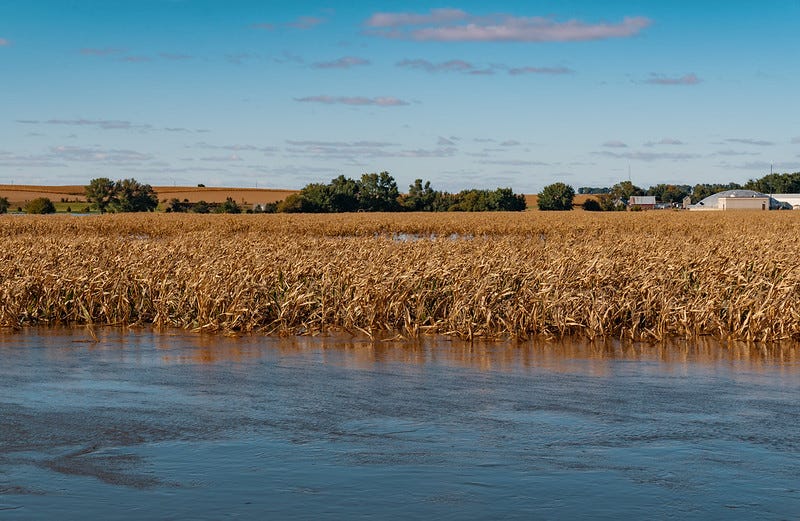 Credit: https://www.flickr.com/photos/diversey/43030441590/
When Molly Hanson bought her first home in 2018, she made sure it was at the top of a hill. It's a decision she likely won't regret.
This past September, a new report from the Iowa Policy Project found that thanks to climate change, the state has been hit by historic flooding and record-breaking precipitation more acutely than much of the rest of the country. Bordered by two huge watersheds — the Mississippi River on one side and the Missouri River on the other — the state is prone to disastrous flash floods every time a heavy rain hits (which, these days, happens more than ever before). 
But now, Iowa is in the middle of a more typical flood: the deluge of out-of-state media, political pundits, and national attention that rains down on the state every four years as a lead up to the first-in-the-nation caucuses.
Earlier this month, we did a deep dive on where the top Democratic contenders stand on climate. And we know that climate is a top-tier issue when Democrats cast their vote for president. Now, we're talking to an Iowan about what the issue means to people (and caucus-goers) in the Midwest and why it's not just coastal communities who are clamoring for change. 
Molly Hanson isn't just a first-time homeowner worried about what her community is going to look like in five or ten years. She applied her background of environmental education and resource management as executive director of the nonprofit river advocacy group Iowa Rivers Revival, and now at RDG Planning & Design, an architecture and engineering firm in Des Moines. Water has been on her mind for a while.
Molly's memory of her first flood is vivid. It was 1993 and she was seven. Late-night cracks of thunder and lightning sent her flying into her parents' room, where she tried to sleep on the floor until the phone rang. "Fill the bathtubs and whatever containers you can find," a voice on the other end of the receiver instructed. "The water's going to be shut off." For a while they took tiny showers using buckets. They stood in line in the parking lot of a local grocery store, waiting for gallon-jugs from the Iowa National Guard.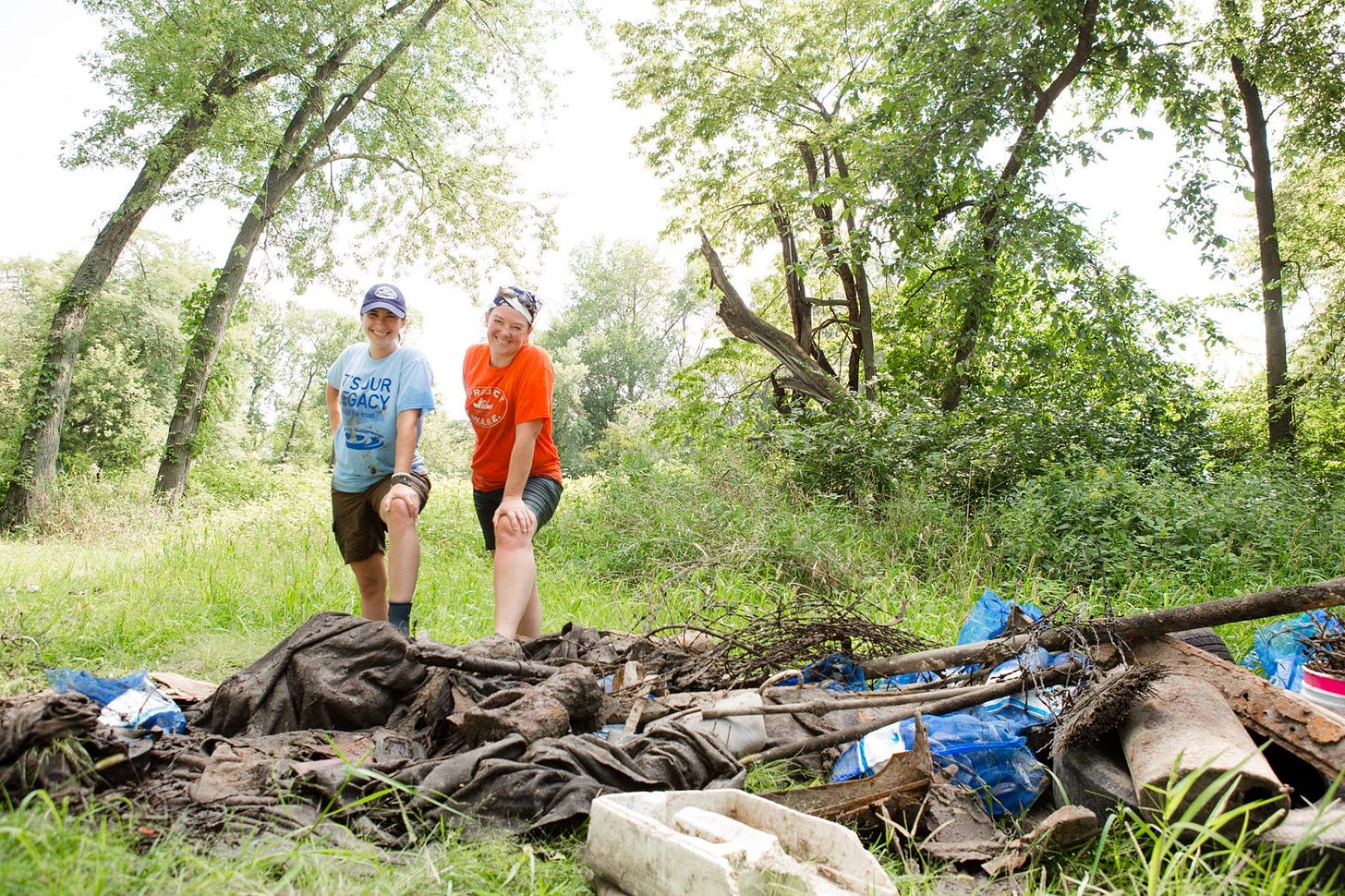 Molly (left) and an IRR staff member showing off the haul after a creek cleanup on the border of Pleasant Hill and Des Moines. Credit: Molly Hanson
Now, she says, it seems like friends and people she knows in Iowa are dealing with floods all the time — constant damage to their homes, inundated basements, swamped yards. 
"Those big influxes of a lot of rain over a really short period of time are particularly painful for folks along those major rivers," Molly told me. "Along the Missouri last year we just had catastrophic flooding in both Iowa and Nebraska, to the point where small towns were completely underwater." 
That "bomb cyclone," a mix of rainwater and snowmelt that led to unprecedented floods, cost the two Midwestern states billions of dollars in damages to farms, neighborhoods, and homes.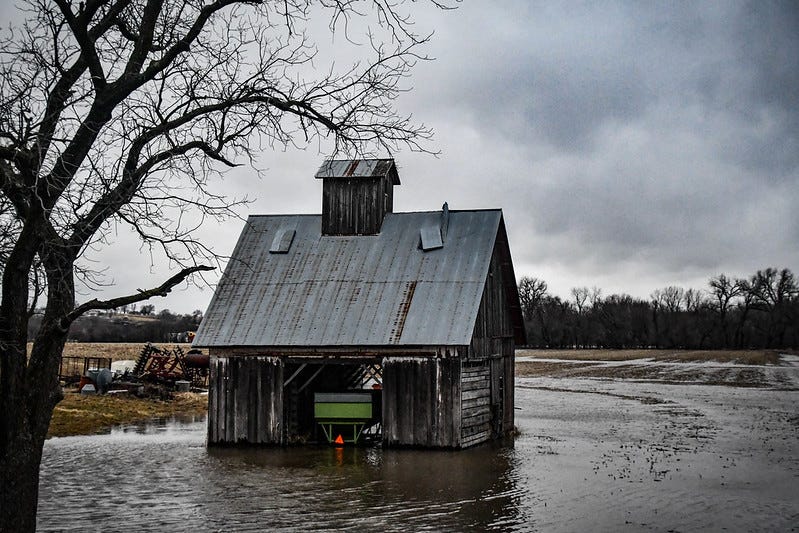 Credit: https://www.flickr.com/photos/pandora_6666/46681522854/
Some communities are able to be proactive — the capital city of Des Moines has been closely reviewing and updating stormwater ordinances to shield against floods — but smaller communities rarely have the resources in their budgets. Without funding and time to fully address unprepared and aging infrastructure, figure out ways to channel and store rapidly moving stormwater, and safeguard homes from inundation, entire neighborhoods could be hammered again and again — and at some point, resilience gives way to retreat. 
"Now they're thinking about completely relocating these entire towns. They have to close down for so long, it's just debilitating," she says. "Thinking about [resilience] now in a systematic way is difficult for communities that are still waiting on FEMA money just to rebuild houses and businesses and get people in not-temporary shelters and things like that. Thinking bigger picture of how to take care of people in communities that are now going to be at-risk more regularly is more of a complicated thought process than people have really gone through because those immediate needs are still falling short of being met."
While water is the major climate issue for most Iowans, the state faces other impacts too. Last year's Iowa Climate Statement, signed by more than 200 scientists, researchers and teachers from the state's universities, and prompting a letter from the Iowa Gazette editorial board urging meaningful action to address climate change, warned of worse and more frequent heat waves by the middle of the century: the number of above-90-degree days is expected to triple, with the average temperature of heat waves rising from 92 to 98 degrees. 
Rapidly warming temperatures pose a particular threat to outdoor laborers like farmers and construction workers who compose a good portion of Iowa's workforce. Farmers tend to be at the forefront of climate damages in Iowa, with flooding, soil erosion and heat causing record-breaking crop loss and lower yields. "As a really agriculturally focused state and economy, we're seeing the impacts at home," Molly says.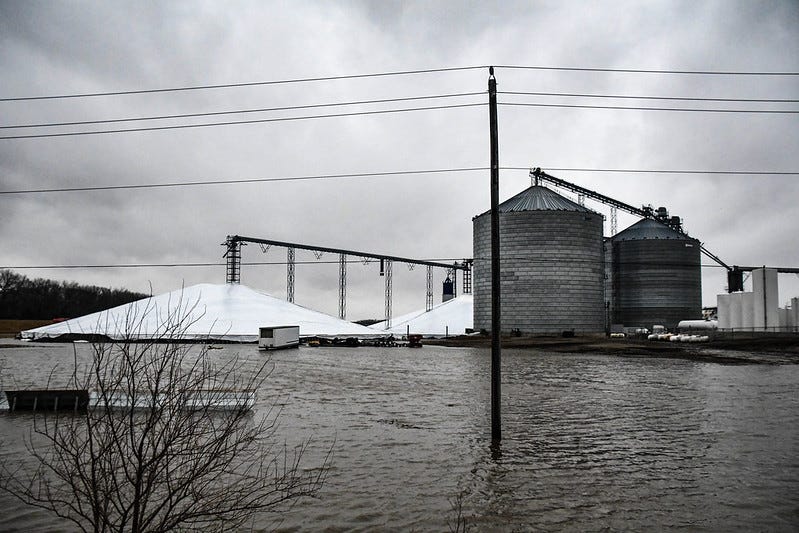 Credit: https://www.flickr.com/photos/pandora_6666/46489577155/
Candidates for the Democratic nomination have gone out of their way to court farmers with promises to boost the state's agricultural business — but how much of a role climate change will play in their plans to do so remains to be seen. One thing is for sure: farmers in Iowa have a big part to play in changing the way candidates think and talk about climate this year. 
"I think the candidates that are going to do well with Iowans are ones who give farmers the opportunity to be leaders in these climate solutions," Molly says. 
But as things stand, taxpayers in Iowa — the same people whose homes and farms are underwater — bear the burden of paying for these damages, along any potential resilience or adaptation projects, entirely on their own. 
If you ask us, it's fossil fuel companies — not these communities — who should be footing the bill.  And Iowa voters across the spectrum agree: a 2019 poll from the Center for Climate Integrity found that after being informed about the fossil fuel industry's deception (old news to readers of EXXONKNEWS, of course), 70% of respondents support holding these companies accountable for a share of climate-related damages in the state.
How can presidential candidates start to tackle this issue? If you ask Molly, the first step is to really listen. 
"Folks are starting to tell their personal stories, a lot more about how they've been affected [by climate change] — whether it's the farm yield this year, or the flooding, or the trade wars and tariffs that affected a lot of peoples' lives," she says. "It's the people who really get lost in the shuffle."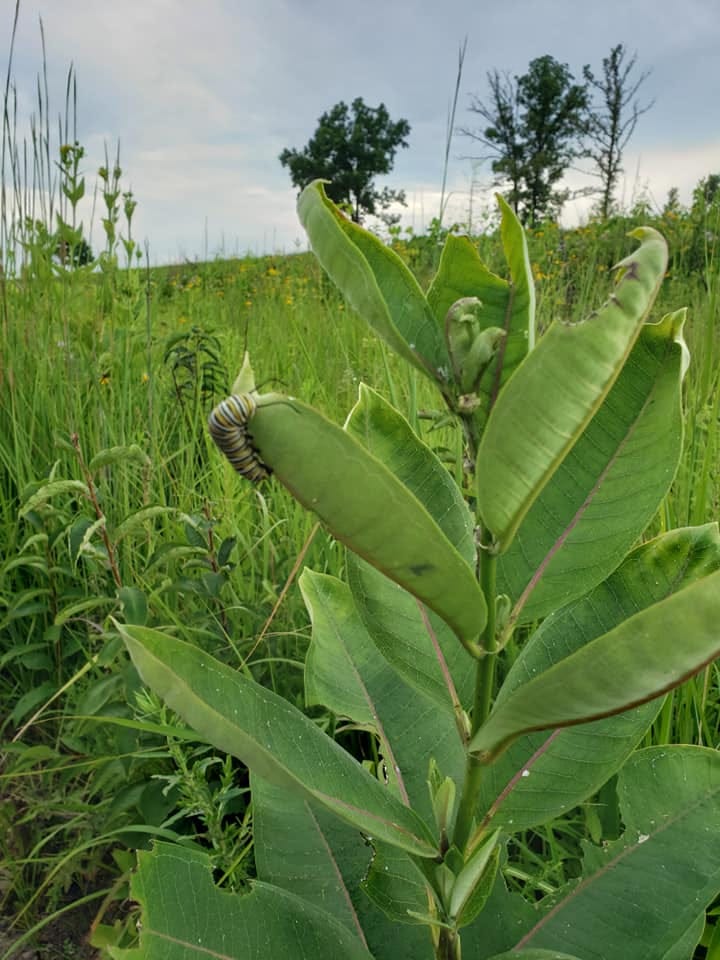 Monarch caterpillar on a milkweed leaf at the Neal Smith National Wildlife Refuge in Prairie City, Iowa. Credit: Molly Hanson
If you liked this issue of EXXONKNEWS, listen to The Iowa Waltz and subscribe below.
---
ICYMI News Roundup
If you have any questions, comments, or kvetches, don't forget to email me at emily@climateintegrity.org. Until next week!